We guarantee all our products for 30 Days! If you are not completely satisfied with a product PLEASE bring it back. Full refund with receipt!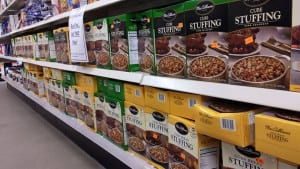 Returns must be made within 30 days of purchase and be accompanied with original receipt(s) for a full refund. Refunds will be made in the same form as the original payment. Returns without receipt are subject to approval by management and if issued will be in the form of store credit.
We do our utmost best to insure we are selling quality products; however, much of what we sell is past it's "Best by" date, or is being liquidated for myriad of other reasons. So while we have internal guidelines we follow, we simply can't taste test everything! If you ever get a product that is not up to your expectations please bring it back! Whether it is a bag of chips that has gone stale, or a rug that doesn't look like you'd hope when you get it in your living room, we want you to be satisfied! Plus you are helping us to do a better job in the future by letting us know something doesn't meet expectations.
Have a question about the date stamped on your food? Visit our Product Dates page for answers to your questions.